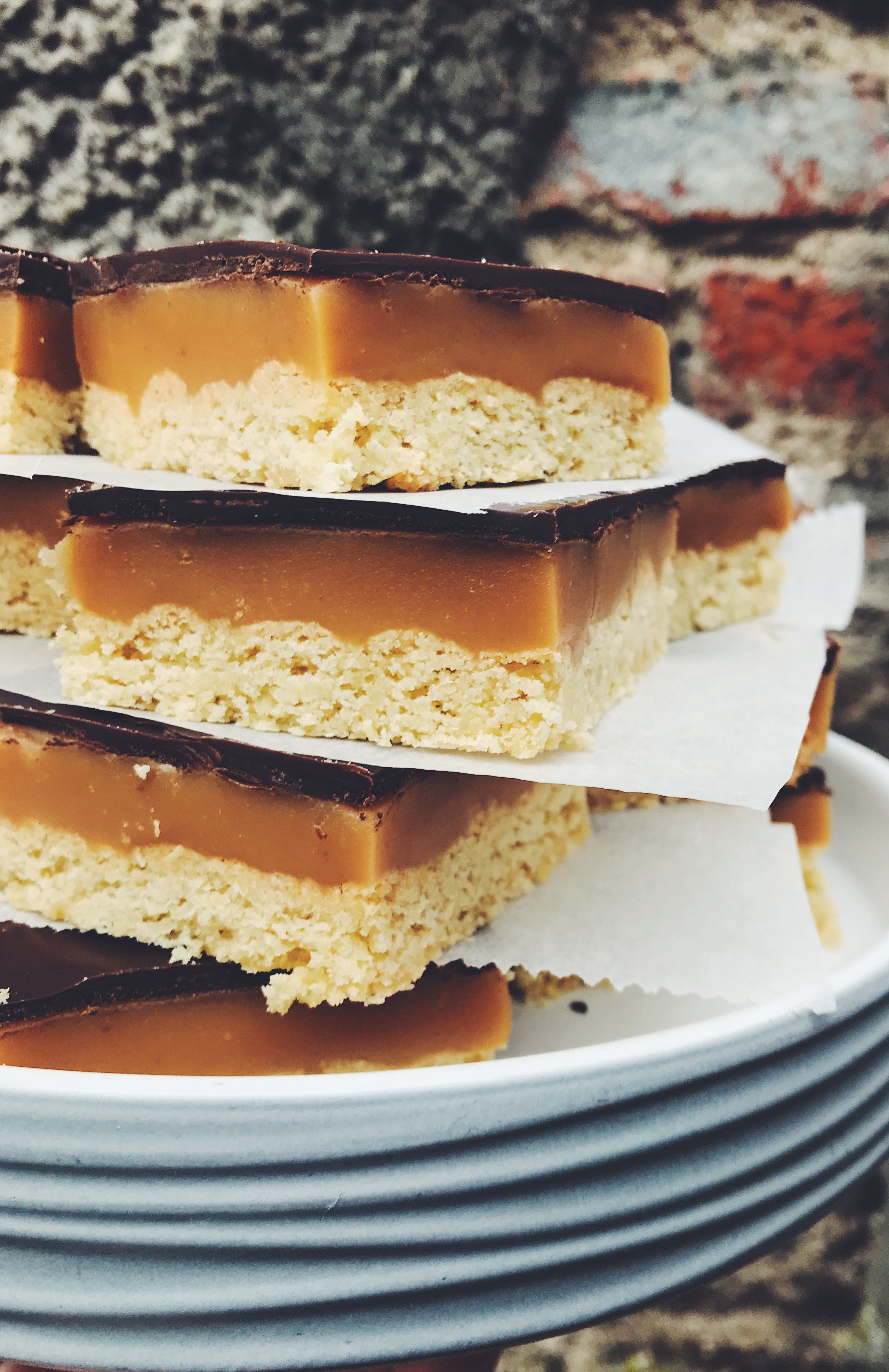 These are our favourite treats in the kitchen at the moment - sadly we don't make them too often due to the length of time it takes to make the caramel when you multiply into our quantities! Trust me though it is well worth it at home. It is a pretty simple recipe to make and these beauties will last 5 days in an airtight box. You can mix up the chocolate on top dark, milk, white or swirl them all together. 
Base:
8oz butter
6oz caster sugar
12oz self-raising flour   
Caramel:
8oz butter 
8oz caster sugar
2 tin condensed milk
1 tbl spoon golden syrup
Dark Chocolate for topping
Method: 
Preheat the oven 170 deg celsius - line a swiss roll tin 33x23 cm
In a food processor (easiest option) pulse the butter, sugar, flour until it resembles breadcrumbs, the stage just before it all comes together. You can do this by hand either by rubbing ingredients together in a bowl.
Press the base mixture into the lined tin and lightly poke with a fork all over.
Bake in the oven for 15-20 min or until its lightly browned, leave to cool in the tin.
In a saucepan put the sugar, butter, condensed milk, and golden syrup. Heat slowly until the butter has melted.
Once the butter has melted slowly bring it up to the boil, stirring all the time, a whisk is handy for this or a heatproof spatula. 
Once boiling, reduce heat and stir continuously, little bits will want to stick so keep stirring until it thickens (15 min or so) and it has lovely caramel color - like a strong cup of tea with milk in it. 
Pour over the biscuit base and cool in the fridge.
Melt the chocolate in the microwave or over a pan of simmering water (don't let the bottom of the bowl touch the water)
Pour chocolate over the caramel and leave to cool again, slice into bars or squares and enjoy!
Comments (0)